The Pensacola News Journal (Pensacola, Florida USA) published the following story, written by Kimberly Blair with photos by Ben Twingley, in their Tuesday, November 5, 2013 edition:
---
Do-it-yourself aviation: Up, up in the air in a CX5
Pensacola aircraft designer offers an affordable, safe plane for amateur pilots to build
Dave Thatcher reminds you of silver screen icon Jimmy Stewart with his subtle wit, lanky frame and down-to-Earth demeanor.
But Thatcher has spent his lifetime tinkering with ways to stay un-tethered from the terra firma, even if it's only 10,000 feet above it.
At age 81, the Pensacola aircraft mechanic, designer and builder has just completed fabricating his second experimental airplane. Think of a two-seater sports car with wings, propelled by a modified Volkswagen engine and designed to be stylish, safe and affordable for amateur pilots.
Online experimental aircraft forums are buzzing about the Thatcher CX5. Already some 50 aviation buffs have lined up to pay $475 for the plans to build the plane for roughly $25,000.That's a bargain considering the engines of many kit airplanes cost more than $100,000 alone (Glen B comment 11/6/2013 - That 100K figure is not a representative engine cost). He sold 547 plans for his first plane, the one seater CX4 he completed in 2004, to amateur plane builders all over the world. The CX5, which seats two, is a larger version of the CX4.
Thatcher derived the name of the planes from the 1940s Hop Harrigan radio show, which recounted the thrilling exploits of the aviation hero that he listened to as a child. "Hop Harrigan would start his radio program by saying, 'CX4 to control tower. CX4 to Control Tower. This is Hop Harrigan coming in.' "
Thatcher created the concept for his planes, much in the same way musicians jot down lyrics when inspiration strikes — on a paper napkin. Thatcher inked his design while eating in the Bayou Boulevard McDonald's restaurant one day in 2003.
Glen Bradley, who spent two years alongside Thatcher building the plane, recently pointed out the features that make the CX4 and CX5 special — curves where other aircraft have straight lines, customized hand-hammered canopy trim, sloped canopy and air pants (covers on the wheels).
If the new plane flies like the first one, it will be a very nice ride, he said. "Some cars have a natural feel to drive and some you just fight," said Bradley. "This is like a sports car ... easy to fly and not overly sensitive. It's a pilot's plane."
Realizing a dream
"I've always wanted to build my own plane, but it wasn't until after I retired that I had the time and money to do that," Thatcher said. He retired as the service manager at Pensacola Aviation Center in 1997.

"Also, I had a good partner to help me build this one and my first one," he said. "If you want to build an airplane, get a good wife. Jean encouraged me and never gave me any grief about it whatsoever."
In a hangar on the private side of Pensacola International Airport on Monday, and over the roar of a steady stream of commercial airliners taking off nearby, Thatcher and Bradley, put the finishing touches on the CX5 in preparation for an inspection later this week to deem it air-worthy, the final step before the first test flight.
Bradley, 65, a retired college professor, has logged 6,000 flight hours since earning his pilot's license at age 16, and will conduct the test flights.
Experimental planes are not allowed to fly at Pensacola International Airport, so the wings will be taken off and the plane will be taken by trailer to Gulf Shores Jack Edwards National Airport, which allows experimental aircraft to be tested.
"We're not going to just jump in the plane and go," Thatcher said. "We're going to do a lot of taxi runs."
After they've flown 40 hours, expect to see the CX5 flying over the skies of Pensacola often, Thatcher said.
Bradley is confident in the plane's flying abilities and expects few problems with the new prototype.
"It's basically the same plane but larger than the CX4," he said. "There's nothing radical about it. No new design breakthrough. It's just a very efficiently designed airplane with upturned wings and strakes (aerodynamic surface) that adds speed and smoothness."
The plane will cruise up to 125 mph and travel about more than 300 miles on one tank of fuel. Adding to the cost-effectiveness, the plane can be designed to operate on non-ethanol automobile fuel that's about $3 less a gallon than aircraft fuel.
It also lands at 40 mph, a speed that increases the survivability of crashes, Bradley noted.
Thatcher, he said, spent a lot of time sitting in the tight cockpit perfecting the best placement for the controls. And a custom-made, wooden propeller adds a bit of panache but is critical to the plane's performance."
Both airplanes have converted VW engines in them. In order to get the horsepower out of that little engine you have to have a smaller propeller and a wooden one," Thatcher said. "A metal propeller would be too heavy and put too much force on the crankshaft."
There's a host of retired and current military, and commercial and amateur pilots who desire small airplanes for weekend getaways or just soaring into the blue skies, Thatcher said.
John McKienan, president of the Pensacola chapter of the Experimental Aircraft Association, said about eight members of the chapter are working together to build one of Thatcher's CX4s. He's sure there will be demand for the two-seater.
"What's nice about his plans, you really don't need sophisticated tools to build it from scratch," he said.
Some kits require purchasing $2,500 worth of tools just to build the plane. "If you go to Dave's hangar, he has tin snips and band saws and drill presses and wooden forms to bend metal. And that's the appeal," McKienan said.
Spiritual experience
Thatcher is a bit of a legend in the world of experimental aircraft, Bradley said.
"A lot of people who offer kits hire a designer and an engineer," he said. "Dave is a one man show, and that's a bit unusual."
Thatcher spent a lifetime collecting the skills he needed to follow his childhood dreams into the world of aviation.
"My first airplane was a cardboard box with a piece of wood across the top of it," he said. "I flew that air plane through the clouds as a fighter pilot, anything my imagination could come up with. I've always been interested in planes."
Upon graduating from high school in Signal Mountain, Tenn., he was drafted into the Air Force during the Korean War. He had aspirations of ­becoming a pilot but started out as an aircraft ­mechanic.
"You could be an enlisted man for two years and that would qualify you to go to the cadets if you passed the tests," he said. "I passed all of them, except the physical requirements. I didn't weigh enough for my height.
By that time, I had fallen in love with being a mechanic. I've been working with airplanes ever since." He honed his skills at Embry-Riddle School of Aeronautics for Aircraft Mechanics, then located in Miami, and he built on that knowledge through a correspondence course on aeronautical engineering while in the Air Force.
Around age 20, he earned his private pilot's license and purchased his first airplane, a Piper Cub, for $400.
While Bradley clocks 40 hours on the CX5, Thatcher will make final adjustments to it and its plans before offering them up for sale. And then he said he'll move on to his next project, which he's still pondering.
"I'm getting quite a bit of pleasure knowing that people are as interested as they are in the little airplane," he said. "Flying is a spiritual experience. When you design it and build it and fly it yourself, there is reward in it. I never thought I'd get that much pleasure out of doing something."


This was printed in a sidebar to the article: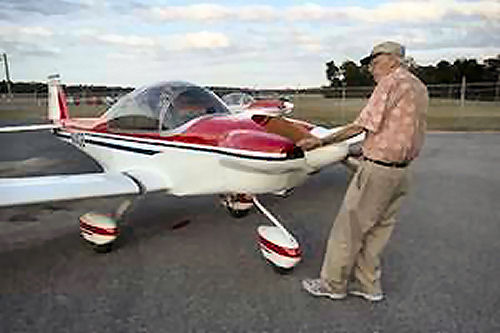 David Thatcher pulls his experimental aircraft, the CX5, back into the hangar. Thatcher has been working on airplanes all his life and is close to completing his second aircraft design. More than 500 copies of his first aircraft design the CX4, seen in background, have been sold to builders all over the world. Both planes utilize a Volkswagen engine and can be run on premium automotive fuel.
About the CX5
• Length: 18 feet.
• Weight: Gross is 1,300 pounds. Empty is 721 pounds.
• Wingspan: 28 feet.
• Cruise speed: 125 mph (201 km/h).
• Fuel: Holds 10.5 gallons automobile fuel.
(Correction Per Glen 11/6/13, CX5 fuel capacity is 20 gal usable)
• Unit cost: $25,000.
• Engine type: 85-horsepower Volkswagen air-cooled engine.
• Plans: $475. They won't be available until after the 40-hours test flights that are expected to begin in
about a week.
For more details on Dave Thatcher and his planes, visit www.thatchercx4.com.